Retain Roofing forms part of the Retain Limited group of companies. Retain Limited, which originally started as an industrial and commercial roofing contractor in 2008, has since become the parent name of Retain Roofing, Retain Access and Retain Energy.
We are headquartered in the southwest of Britain's ocean city Plymouth. However, we deliver our unique three-in-one services nationwide and pride ourselves on offering first-class industrial and commercial roofing solutions for all clientele.
All our roofing operatives have acquired the necessary skills and industry qualifications to enable them to deal with all aspects of industrial and commercial roofing systems, including flat roofs, liquid applied systems and non-licensed asbestos removal.
Retain Limited has many former Royal Marine employees, both on-site and office-based, and we are thrilled to support The Royal Marines Charity (RMA) on an ongoing basis.  We are delighted to have been awarded the employer's recognition Silver Award 2022 (The gold application is being reviewed with an announcement later in 2023).
Furthermore, we are the proud winners of awards in health and safety and work with only the very best UK manufacturers to ensure premium quality for our clients. We are pleased to offer you significant professional knowledge based on a wealth of experience.
Our Team
Our friendly, knowledgeable team consists of on-site and office-based professionals who work closely together to ensure the best possible customer service for all our clients

Jamie Gibbs LLB (Hons) MIoR
FOUNDER & DIRECTOR
Jamie established Retain Limited in 2008 after gaining extensive experience in the industrial and commercial roofing sector. This included being the Regional Chair for the Institute of Roofing (IoR).

Don Lehane MIoR
DIRECTOR OF ROOFING
Don is the company director of our Retain Roofing business and manages all our industrial and commercial roofing projects and on-site teams of roofing specialists throughout the nation.

Darren Notman GCGI
TECHNICAL DIRECTOR
Darren is responsible for running Retain Limited and its employees. He is an integral part of our rapid growth by working on all aspects of future proposals, bids, strategy and operations.

James Styles MCMI
OPERATIONS MANAGER
James oversees the day-to-day running of the business and its employees and helps to facilitate the company's rapid growth and available services.

Carolyn Hill FICB
FINANCE CONTROLLER
Carolyn heads up the finance department and is responsible for all the Retain Limited accounts and finances.

Mark Turner BA (Hons)
MARKETING MANAGER
Mark oversees all marketing and communications activities across the group of businesses and actively promotes our high-quality three-in-one services.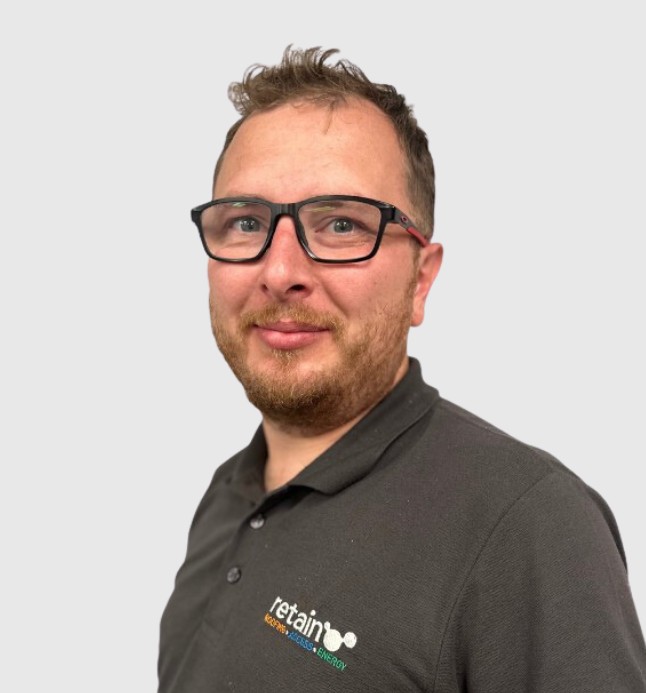 Sam Betts
QUANTITY SURVEYOR
Sam is responsible for liaising with the construction and renewable energy industry's leading manufacturers and selected suppliers, providing costings for all client and prospect project works.
Alex Isted
COMMERCIAL MANAGER - ENERGY
Alex is our Retain Energy Commercial Manager who helped establish our renewable energy arm and is responsible for managing all of our solar installation projects.
Greg Best
BUSINESS DEVELOPMENT MANAGER
Greg is responsible for developing and implementing business strategies that drive growth across all of our three business units of Retain Roofing, Retain Access, and Retain Energy.
Chris Rice
SOLAR PV DESIGNER & PROJECT MANAGER
Chris oversees our commercial solar PV projects from inception to completion. He also collaborates with clients, engineers, and installers to design and manage solar PV systems.
Lauren Davis LLB (Hons)
HR & OFFICE ADMINISTRATOR
Lauren oversees our new starters, policies and procedures and implementing change. Lauren also performs general admin and liaises with our suppliers on a daily basis.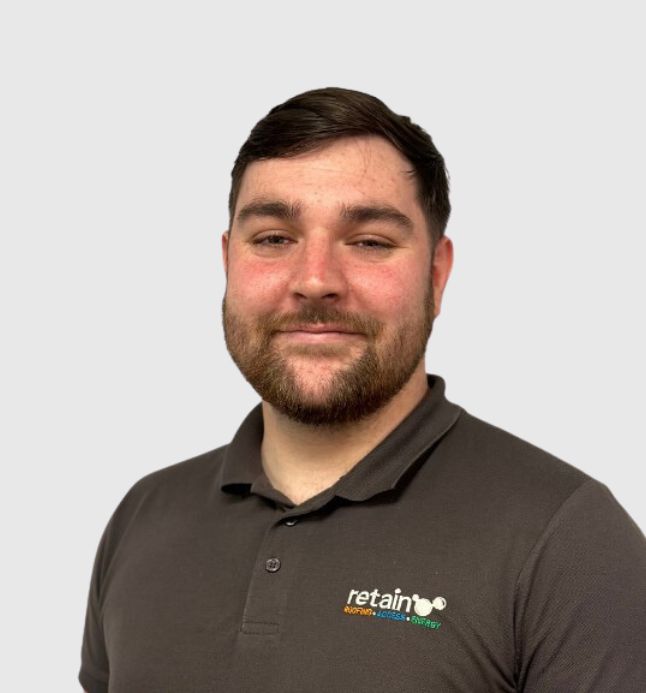 Sam Hambridge
APPRENTICE BID COORDINATOR
Sam works alongside the estimating team to understand client requirements and develops bid strategies that meet the needs of our clients and aligns with company goals.
Our Commitment to Health and Safety
As a professional industrial and commercial 3-in-1 contractor, working at height is our most common residual safety risk. We cannot stress enough how important health and safety are to us.
Quite frankly, it is the backbone of our organisation and the rock-solid foundations we've successfully built our business on. We appreciate that this can come at a cost, but at the same time, you are getting excellent value for money for a specialised service that cuts no corners and does everything by the book.
We do this to protect the well-being of our workforce and maintain our first-class reputation as a diligent contractor that provides a high-quality service both on and off the building site. This is reaffirmed by our continued success in the NFRC's annual roofing awards, where we have been year-on-year winners of their Gold Award since 2016.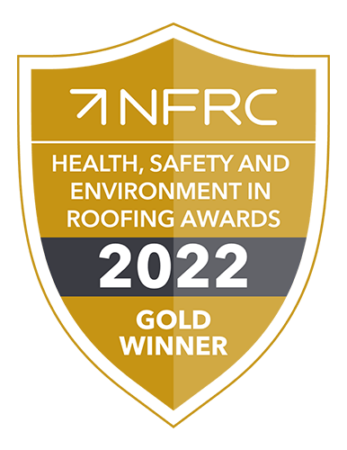 Testimonials
We are very well established and highly experienced in the commercial and industrial industry,
with a wealth of positive testimonials from our previous clientele. Read our five star Google reviews here >
Retain Limited have worked on numerous Tesla Motors sites for us undertaking varied roofing tasks such as gutter lining, cut edge corrosion and repair work, we have found them to be diligent and all works have been completed to our high standards.
Retain is a company I would recommend. I have employed the company on a number of occasions to undertake work to clients' properties. They are always attentive to our clients' requirements, knowledgeable staff, quality workmanship and always on hand to offer exceptional service.
I have always found them to be honest and reliable, their site staff are courteous and considerate and they work well with tenants and other contractors. They're adept at solving the unusual problems often found in aged industrial units and always keep their site clean, tidy and compliant with Health & Safety regulations.
The age and construction of the units exposed many unpredictable problems which they dealt with immediately in a most professional manner whilst appreciating the importance of maintaining good relationships with the occupiers, all of whom were satisfied with the outcome.
Retain Limited & the Royal Marines Charity
Retain Limited is incredibly proud to work closely with the Royal Marines Charity (RMA). This fantastic charitable organisation aims to provide a lifetime of support to the Royal Marines Family by whatever means required.
The RMA has grown professionally over the last few years, which was initially established through personal connections from our very own management team here at Retain Limited.
With many of our employees previously serving in the Royal Marines, including our Founder and Director Jamie Gibbs, we endeavour to provide employment opportunities to help other former Royal Marines re-adjust to the lifestyle of a UK civilian.
We also strive to help educate, train and create bespoke career pathways tailored to individual skill sets to enable and encourage a successful and fulfilling life post-service.

Supporting the Royal Marines Family
Retain Limited is incredibly proud to work closely with the Royal Marines Charity (RMA). This fantastic charitable organisation aims to provide lifetime support to the Royal Marines family by whatever means required.