Retain Access
With a wealth of knowledge and experience, our award-winning team delivers premium scaffolding services and solutions nationwide
ABOUT US
Welcome to Retain Access
Retain Access supplies scaffolding contractor services, which include all types of scaffolding solutions. Covering the whole spectrum of access scaffolding, staircases, and footbridges to hanging scaffolds from overhead structures, temporary roofs, and shoring or support scaffolding to make a structure stable, safe, and fit for purpose. FASET safety net rigging and handrail edge protection are other services we can offer.
Whatever types of scaffolding are required for your project, you can be sure that Retain Access will give every consideration to the safety of all personnel involved and our impact on the surrounding environment.
Retain Access always puts safety and well-being at the heart of our business processes. We ensure our client's staff and operatives, members of the public and our team's health and safety come first.
Call us: 0800 027 2244 or Request a callback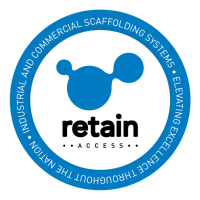 Scaffold and Access Solutions
Premium scaffolding solutions and bespoke designs for all
commercial and industrial projects nationwide.
Our trusted suppliers and partners
Latest News & Blog
Read more from Retain Access and our unique three-in-one construction and renewable energy services

Supporting the Royal Marines Family
Retain Limited is incredibly proud to work closely with the Royal Marines Charity (RMA). This fantastic charitable organisation aims to provide lifetime support to the Royal Marines family by whatever means required.